CEREC Porcelain Teeth
23 Mar 2021
Let the magic of computerised dentistry help us give you a beautiful smile.
Amalgam-free Fillings
The dentists at Bond Street Dental don't use amalgam or silver fillings. Instead we choose composite resin or porcelain to restore the aesthetics and function of decayed, or compromised teeth.
Explaining CEREC technology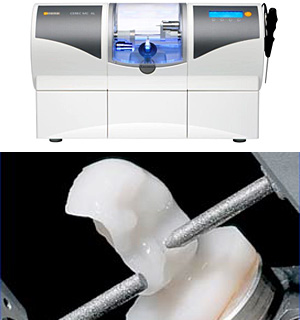 CEREC porcelain tooth-coloured fillings are created using computerised software and a milling unit. These restoration look like a natural tooth, are extremely durable and fit precisely. Unsightly amalgam fillings can be replaced with CEREC restorations in one visit.
The natural-looking and biocompatible ceramic material is free of metal, which eliminates unsightly black gum lines.
Treatment – One visit dentistry
The old filling is removed and the tooth is prepared for imaging
A small camera photographs the cavity and the restoration is created on the screen using this 3D image
A ceramic block is milled to reproduce the restoration to fit precisely
The ceramic restoration is bonded into position and polished to ensure a smooth, natural feel
Dental restorations have come a long way, because dental restorations weren't always tooth-coloured. Several years ago, dental restorations were silver-coloured or almost black, leaving the patient with a smile that wasn't as aesthetically pleasing. Thanks to the arrival of new technologies and materials, dentists can now provide patients with tooth-coloured fillings that match the cavity perfectly; this includes scanning the cavity and milling the tooth-coloured filling in the CEREC machine. Older fillings can also be removed and replaced with new tooth-coloured dental restorations.
If you are considering replacing older fillings with new tooth-coloured fillings, we can recommend making an appointment at the Bond Street Dental Clinic. During this appointment, the dentist can evaluate how many fillings need to be replaced and provide you with a treatment plan. If many fillings need to be removed and replaced, the patient may require more than one appointment at our clinic.
More information about your dental restoration treatment will be included in your treatment plan; this includes the number of appointments you'll need and the overall cost of the treatment. If you decide to go ahead, you can make another appointment at our clinic to get your old fillings replaced and get a new & brighter smile.
Sleep Dentistry
Brushing
Dental Hygiene
Back to Articles