Your Teeth, Renewed
When teeth are brightened with Philips Zoom! Whitening they have a certain sparkle that radiates far beyond your smile. For smarter, safer whitening in as little as an hour; teeth enhanced with Zoom still feel like you—just beautifully renewed.
Come in for a smile refresh or look forward to Zoom! Whitening as the final step in your cosmetic dentistry or other treatment plan.
Clinically Proven
There's no need to wait for a smile that shines. Philips Zoom! Whitening is clinically proven to whiten teeth up to 8 shades in as little as 60 mins.
Zoom can be a fantastic treatment for anyone with an upcoming event they want to feel their best for—or as a regular step in their self-care routine.
What is Zoom teeth whitening?
Zoom whitening is a safe, effective and popular whitening treatment that's clinically proven to whiten teeth up to 8 shades. The cosmetic treatment can be performed in-clinic at Bond Street Dental or with custom-fitted trays in a take-home whitening kit. Both treatment options use Zoom's unique hydrogen peroxide gel to whiten teeth as well as Amorphous Calcium Phosphate (ACP) to protect enamel and add shine.
If you choose to have your Zoom Whitening treatment done in-clinic, it can be completed in as little as 60 minutes. This is due to Zoom's Blue LED light-accelerated technology which is used in the chair-side lamp. This light treatment activates the hydrogen peroxide, speeding up the process so that you could have a bright new smile in your lunch break!
Which type of teeth whitening treatment should I use?
One of the many benefits of Zoom teeth whitening is that you and your dentist can choose the best custom treatment plan to suit your needs and lifestyle. Some people like the convenience of having the treatment done chairside because they can get outstanding results in an hour without the hassle of wearing trays. Others prefer to gently and gradually whiten their teeth with the custom fitted take-home trays which still achieve amazing results and only have to be worn for a few hours each day.
To understand which is the best Zoom whitening treatment for you, book a consultation with our treatment coordinator.
What are the risks of teeth whitening?
Having your teeth whitened is an investment in you and your future, which is why it's so important to choose a dental practice that's highly trained in cosmetic dentistry and who can properly assess your eligibility for teeth whitening.
At Bond Street, we'll perform a thorough checkup to assess your dental health, which will reduce the risks that can come with using inferior whitening products or inexperienced practitioners—such as damage to the roots or heightened sensitivity.
Because your oral health is always our first priority, not everyone will be approved for Zoom teeth whitening, or they may require treatment to fix other issues before they can begin the whitening process.
What causes tooth discolouration?
Tooth discolouration can be caused by many factors including genetics, ageing, everyday food and drink choices, smoking, the environment and medication. To avoid tooth discolouration, speak to your dentist about what changes you can make to your lifestyle and routine.
How long does teeth whitening last?
Zoom teeth whitening treatment is designed for long lasting results that you can expect to enjoy for longer than 12 months. However, the longevity of your white teeth will depend on the lifestyle choices that you make after treatment. Smoking and drinking staining drinks such as coffee and red wine, as well as how committed you are to your oral hygiene will all determine the longevity of your results.
To best look after your white teeth, it's advisable to use a straw when drinking staining drinks, try to brush your teeth after every meal, and quit bad habits such as smoking or drinking sugary soft drinks.
Do Fillings, Crowns or Veneers respond to whitening treatment?
Because fillings, dental crowns and porcelain veneers are made from porcelain, ceramic or composite resin they do not respond to teeth whitening treatment. This means that even if you have your natural teeth whitened, the material of your tooth-coloured crown, filling or veneers will always remain the same colour.
Some people who are coming in for these treatments like to have their Zoom teeth whitening before their crown or fillings are placed, so that the dentist can match your dental restorations to your newly whitened teeth.
I currently wear braces; can I get my teeth whitened?
Straightening your teeth with braces is an exciting process but keeping your teeth white and bright during this period can be challenging. Some patients ask if they can get their teeth professionally whitened while wearing braces but unless you are wearing removable or lingual braces, you'll have to wait for your treatment to be complete before you book your Zoom whitening treatment.
How much does Zoom whitening cost?
Depending on whether you wish to perform your Zoom teeth whitening treatment at home with the take-home trays or chairside with one of our dentists or hygienists, the cost of your treatment will differ.
At Bond Street, we pride ourselves on being completely transparent with our costs, which our treatment coordinator will personally discuss with you as we put together your tailored treatment plan. We also offer a variety of flexible payment options to suit different budgets.
Who will provide my teeth whitening treatment?
Your Zoom teeth whitening treatment will be performed by one of Bond Street's specifically trained dentists or dental hygienists. Even if you choose to perform your treatment with the take-home whitening kit, your custom tray will be specially fitted for you by one of our experts.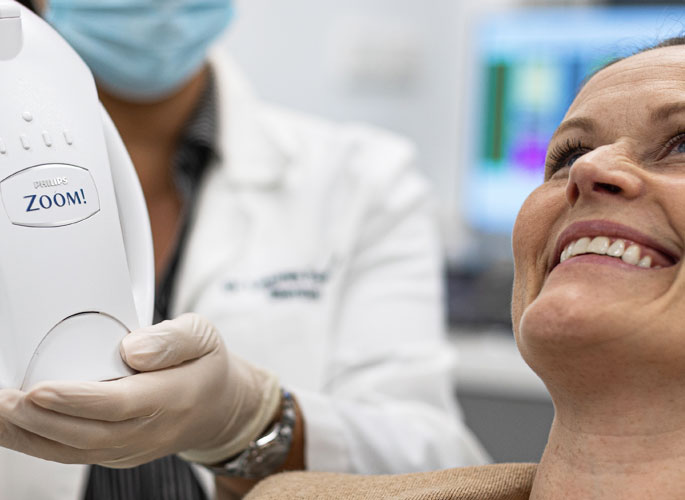 Zoom whitening, from the comfort of home.
You can have your treatment done in-clinic with one of our highly trained clinicians or from the comfort of home with custom-fitted whitening trays.
Quick Facts
Zoom's unique hydrogen peroxide gel and blue LED light-acceleration technology rapidly whitens the teeth and protects enamel for superior shine and reduced sensitivity.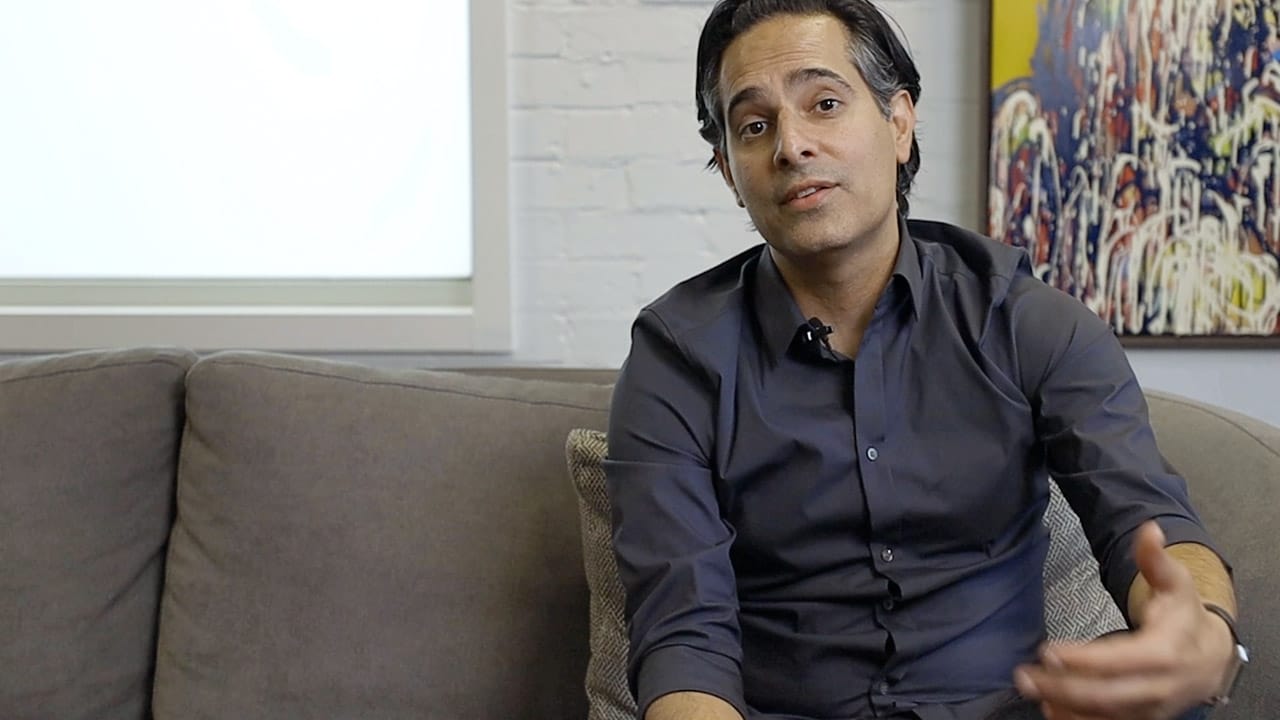 Zoom Teeth Whitening
Over the years, many products and techniques have hit the dental market promising white teeth – but many have proven temporary, poor quality and often unsafe. Discover why Zoom Whitening at Bond Street can provide results you can rely on.
Watch the video
Where you can find our Zoom Teeth Whitening clinic in Melbourne
At Bond Street, we help you decide on the right teeth whitening solution to meet your needs. Starting with an in-depth cosmetic smile enhancement consultation, we work with you every step of the way to provide high-quality, personalised care. Book in for a consultation at our state-of-the-art South Yarra clinic.
"It's safe, effective and affordable for the majority of our patients."
J. Carter