A healthy foundation
When kids learn good dental habits early in life, it lays the foundation for a healthy future. With children's dentistry, young mouths get the care they need—for confidence and smiles that can last a lifetime.
Quick Facts
Around 1 in 4 (24%) Australian children have decay in their permanent teeth due to poor brushing habits and too few dentist visits.
When you bring your child to Bond Street, it's the beginning of a lifelong relationship—from their first tooth, through adolescence and beyond.
What is a children's dentist?
Children's dentistry, also known as pediatric dentistry, is the practice of caring for the oral health of children through their infancy and teen years. It's important that a child receives high quality dental services, to avoid oral decay or disease in their early years, which can lead to much bigger problems later in life. Currently 1 in 4 Australian children suffer from tooth decay.
At what age should a child start seeing a dentist?
There's a misguided belief that children don't need to see a dentist until they have their full set of baby teeth. However, dentistry isn't just about teeth! Bringing your child in early so they can have their gums, lips and mouths checked as well as their teeth helps dentists identify any potential problems before they have a chance to take hold.
Your dentist will check that your child's oral development is tracking how it should and for this reason, many parents choose to schedule their child's first dentist appointment when their first tooth comes through. It's recommended that children start seeing a dentist from at least 12 months old.
What to expect at a child's first dental appointment?
It's normal to feel anxious before your child's first dental appointment but there's no need to worry. At Bond Street, we put children and their parents at ease by providing thorough and straightforward advice in a caring and supportive environment. As well as giving your child a thorough checkup, their first dental appointment is a chance for our dentists to discuss:
Teething
Childhood habits like thumb sucking
Your child's bite (how the teeth will fit together)
How to prevent decay
Nutritional advice for optimal oral health
What children's dentistry services are there?
One of the many benefits of bringing your child to Bond Street for children's dentistry is that almost any service they may require is available in-house. Some common children's dentistry services include:
Preventative care
Oral examinations
Dental x-rays
Routine cleanings & checkups
Fillings
Tooth extractions
Does my child need early orthodontic treatment?
As part of your child's preventative care program, we will look for any abnormalities that need attention early in life. This is important because young children have teeth and jaws that are easier to manipulate, making any adjustments much easier than when they're older and the problems have set in.
Signs that your child may require early orthodontic treatment can include:
Teeth crowding
Early loss of baby teeth
Mouth breathing
Biting or chewing difficulties
Thumb sucking after the age of 5
How your child's jaw fits together when the mouth is closed
Protruding teeth
Teeth spacing and missing teeth
If our dentists identify any of these issues, they will refer you to a child orthodontist for further treatment.
What are some teeth cleaning tips for kids?
It's essential that kids learn how to correctly clean their teeth and maintain good oral health from an early age. This will help keep cavities and decay at bay in their younger years, as well as establishing a positive routine that will see them enjoy great oral health for life.
The following teeth cleaning tips can help you get started:
If you can, invest in a child's soft-bristled electric toothbrush, as it's more effective than a manual brush
There's no need for toothpaste for a child under 18 months—simply use water on a soft toothbrush
Floss children's teeth for them up until age 7-8.
Make brush time fun by playing their favorite music or turning it into a game
Remember to gently brush their tongue
Once children are confident brushing their own teeth, make sure you're checking them to confirm that any food and plaque has been removed.
Why choose Bond Street Dental for children's dentistry?
If your child begins their oral health journey with Bond Street, they'll receive care with some of the most sought-after dentists in Melbourne.
And with oral health being so linked with overall health and wellbeing, it's all essential that you get them started as early as possible.
At Bond Street, all our dentists and specialists are located under the one roof at our beautiful and fully equipped clinic in the heart of South Yarra. This means you and your child can both be treated by us in-house for the ultimate in comfort and convenience.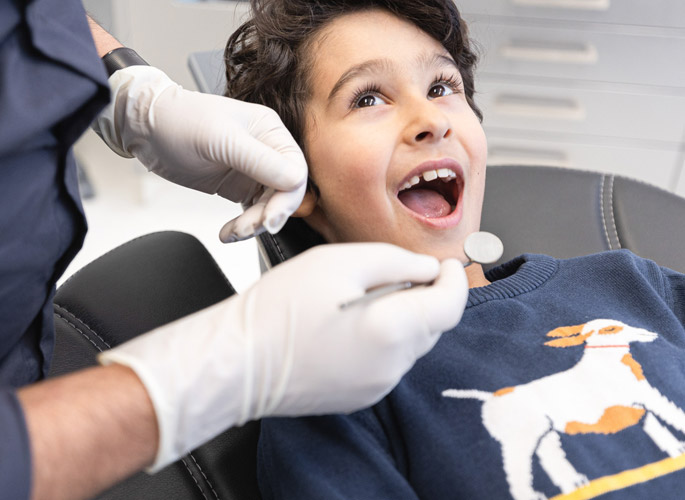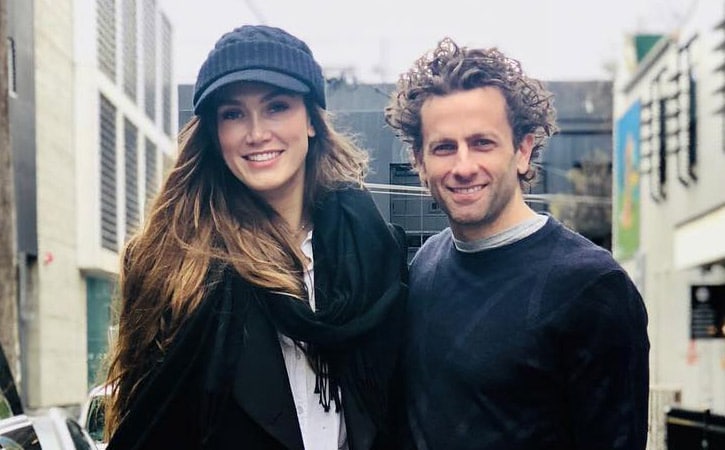 Famous Smiles
Some of Australia's best know stars and household names entrust Bond Street for their dental care – from sporting stars and TV personalities, to comedians and musicians.
See more of our Famous Smiles
Where you can find our children's dentistry clinic in Melbourne
At Bond Street, we do much more than perform general dentistry. Starting with an in-depth consultation, we work with you every step of the way to provide high-quality, personalised care. Book in for a consultation at our state-of-the-art South Yarra clinic.
Want to set your child up for a healthy future? Book an appointment or find us below. 
Quick Facts
Our dentists look for early signs of developmental or functional issues so that can be addressed now before they become an expensive problem later in life.
"Confidence is being happy and being yourself".
Jess Carter