Optimal health, stunning results
With leading cosmetic dentists, the health of your smile always comes first. Whether it's porcelain veneers, teeth whitening or the latest cosmetic straightening technology — when natural beauty is finessed by an expert, vitality glows from the inside out.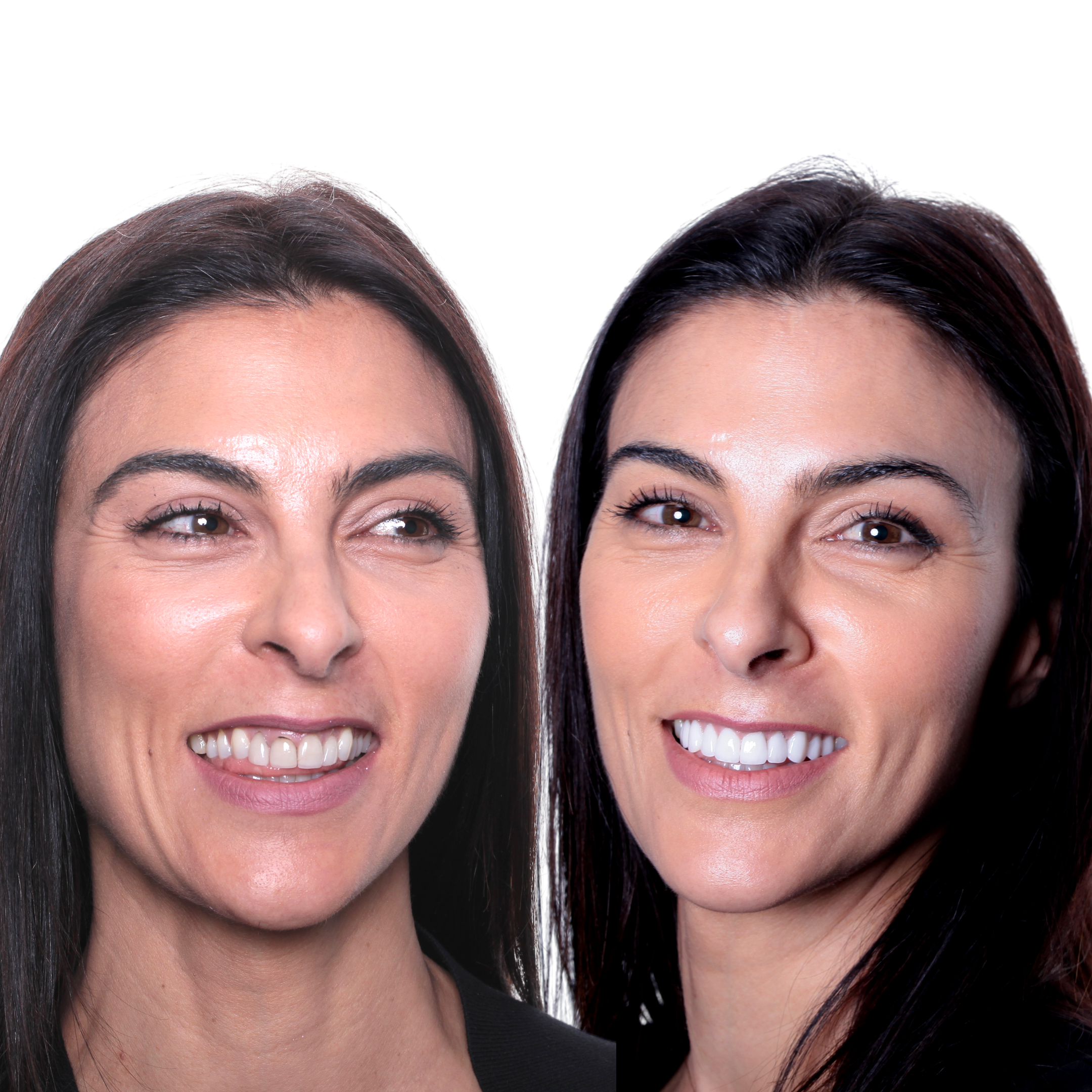 "My aim is to enhance your natural beauty. "
Dr Brent Dickman
Our Melbourne-based cosmetic clinicians never settle for the quick fix. Every treatment is designed for a flawless finish and optimal longevity.
What is Cosmetic Dentistry?
Cosmetic dentistry is the process of enhancing the appearance of a smile. However it's not just aesthetics that leading cosmetic dentists address. Instead, they focus on the health and functionality of a smile, so that the aesthetic results the patient desires come naturally, and will be far superior than a quick-fix cosmetic solution that doesn't address underlying issues.
At Bond Street, our cosmetic dentists put so much time into planning your treatment and ensuring that every step is accurate that you'll walk away feeling refreshed and transformed, from the inside out.
Cosmetic dentistry can encompass many treatments, but some of the most common performed at Bond Street include: Invisalign, porcelain veneers, Zoom whitening and porcelain crowns.
We were also the first Digital Smile Design clinic in Melbourne. This state-of-the-art technology allows you to accurately co-design your smile with our cosmetic dentists, so that you can see exactly what your cosmetic results will look like before you start your treatment.
Why see a Cosmetic Dentist in Melbourne?
If you're unhappy with the look and feel of your smile, you may benefit from seeing a cosmetic dentist.
That's because problems like overcrowding, stained or missing teeth can impact confidence and cause health issues that go far beyond aesthetics. For example, overcrowded teeth can harbour bacteria that's difficult to effectively remove through teeth brushing or flossing. By straightening your teeth, not only will you achieve a beautiful smile but it will be much easier to keep hard to reach places free from buildup.
Whether it's veneers, teeth whitening or straightening, for the best results, always look for a clinician who's highly experienced and specially trained in cosmetic dentistry.
What is Teeth Whitening?
Zoom teeth whitening is a popular treatment that can give you a whiter, brighter smile in an hour. Clients can choose to receive the treatment 'in chair' at Bond Street Dental or you can perform the treatment at home with a Zoom take-home whitening kit.
Safe and effective teeth whitening
Great option for teeth stained by tea, coffee, tobacco and wine
Choose to have treatment 'in chair' or at Bond Street Dental
Easy to maintain
What are Porcelain Crowns?
Porcelain crowns are a tooth-shaped cap that are used to fix a number of dental problems such as chipped, stained or cracked teeth. By placing the cap over a damaged tooth, the structure is held together and the appearance of the tooth is transformed.
Provide structure for a tooth that's been weakened
Covers cracks and chips
Improve appearance of dental decay
An alternative for people who aren't suitable for porcelain veneers
Covers misaligned and discoloured teeth
Restores function
What are Porcelain Veneers?
Porcelain veneers are a popular cosmetic dental treatment for people who wish to improve the appearance of their smile. A cosmetic dentist uses thin, tooth-coloured shells to overlay teeth so that any imperfections are hidden; leaving a dull, chipped or discoloured smile completely regenerated.
Porcelain is durable and long lasting
Completely restores the appearance of your smile
Hides crooked, gapped or poorly shaped teeth
Hides discolouration
What are Dental Implants?
A dental implant is a medical grade titanium post placed into the jawbone as a substitute for a missing tooth root. The implant integrates naturally with the bone and can be used for a single tooth, multiple teeth or the entire upper and lower set of teeth, depending on the requirements.
Replaces missing or damaged teeth
All-on-4® treatment can be used to replace multiple teeth
Looks and functions just like natural teeth
Strengthens remaining natural teeth
Makes eating more comfortable
What is Digital Smile Design?
With Digital Smile Design you can be the co-designer of your new smile. Whether you have a clear idea of what you would like your smile to look like or not, you can be a part of the design process and preview your smile before committing to treatment. This state-of-the-art technology allows your dentist to create an accurate 3D digital model of your teeth, face, and jaw, taking into account any oral and medical health issues. This allows them to craft a bespoke treatment plan for your individual needs. What's more, you can preview your end-result smile before treatment has even begun.
See how your teeth will look at the end of your treatment
Helps discover the best treatment to achieve the results you're after
Your unique features are taken into account to create the perfect look to complement you and your face shape
Helps your dentist avoid teeth that look 'fake' or unusual
What are CEREC porcelain teeth?
CEREC porcelain tooth-coloured restorations are created using computerised software and a milling unit. They look just like a natural tooth, are extremely durable and fit precisely. Unsightly amalgam fillings can be replaced with CEREC restorations in one visit.
The attractive alternative to outdated amalgam fillings
Can replace existing fillings
Made from biocompatible ceramic material
Smooth and natural finish makes them virtually undetectable
What is a Gummy Smile?
A 'gummy smile', or excessive or uneven gums, can often be helped with a gum lift procedure. It can also be combined with porcelain crowns or porcelain veneers for a total smile makeover.
All treatments can be performed in-clinic at Bond Street Dental
Fixing a gummy smile creates more symmetry
Helps to improve the appearance of other treatments such as porcelain veneers
What are my options for missing teeth?
When one or several teeth are missing, there are different dental implant options available depending on your specific requirements. It's important to replace missing teeth as soon as possible, to avoid unnecessary and invasive bone grafting procedures.
Single missing tooth
If you have a single tooth missing, your cosmetic dentist will likely recommend that you have it replaced with a dental implant. At Bond Street, we use the highest quality medical grade titanium posts that are designed for longevity.
All-on-4®
If you have several missing or damaged teeth, you may be a candidate for the innovative and highly sought after All-on-4® treatment—an advanced technique that uses only four implants to support an entire arch of teeth.
This landmark treatment concept can be used in either the upper or lower jaw to support immediate fixed replacement teeth.
Your new teeth will look, feel and function just like natural teeth in one or two days.
Zygomatic Implants
Not everybody's facial bones are built the same. Depending on the outcome of your diagnostic x-rays, extra long Zygomatic dental implants may be offered in cases where the amount of bone available in the upper jaw is insufficient for our more common implant procedures.
Zygoma implants are anchored into the cheekbone, providing an alternative to grafting procedures in the upper jaw. As with the All-on-4® technique, new teeth can be connected to them within one or two days of the surgery.
Are veneers my only option to improve my smile?
While porcelain veneers are a beautiful and effective way to improve the appearance of many smiles, it isn't the only treatment option available. At Bond Street, we never push clients into treatments that they don't need, instead working with you to truly understand the results you're after so that you can make informed decisions.
For a complete smile transformation, high-quality porcelain veneers from Bond Street Dental may be an excellent treatment option for you. The first step in your journey is booking an appointment with our dedicated treatment coordinator who can unravel your needs and help you begin your journey.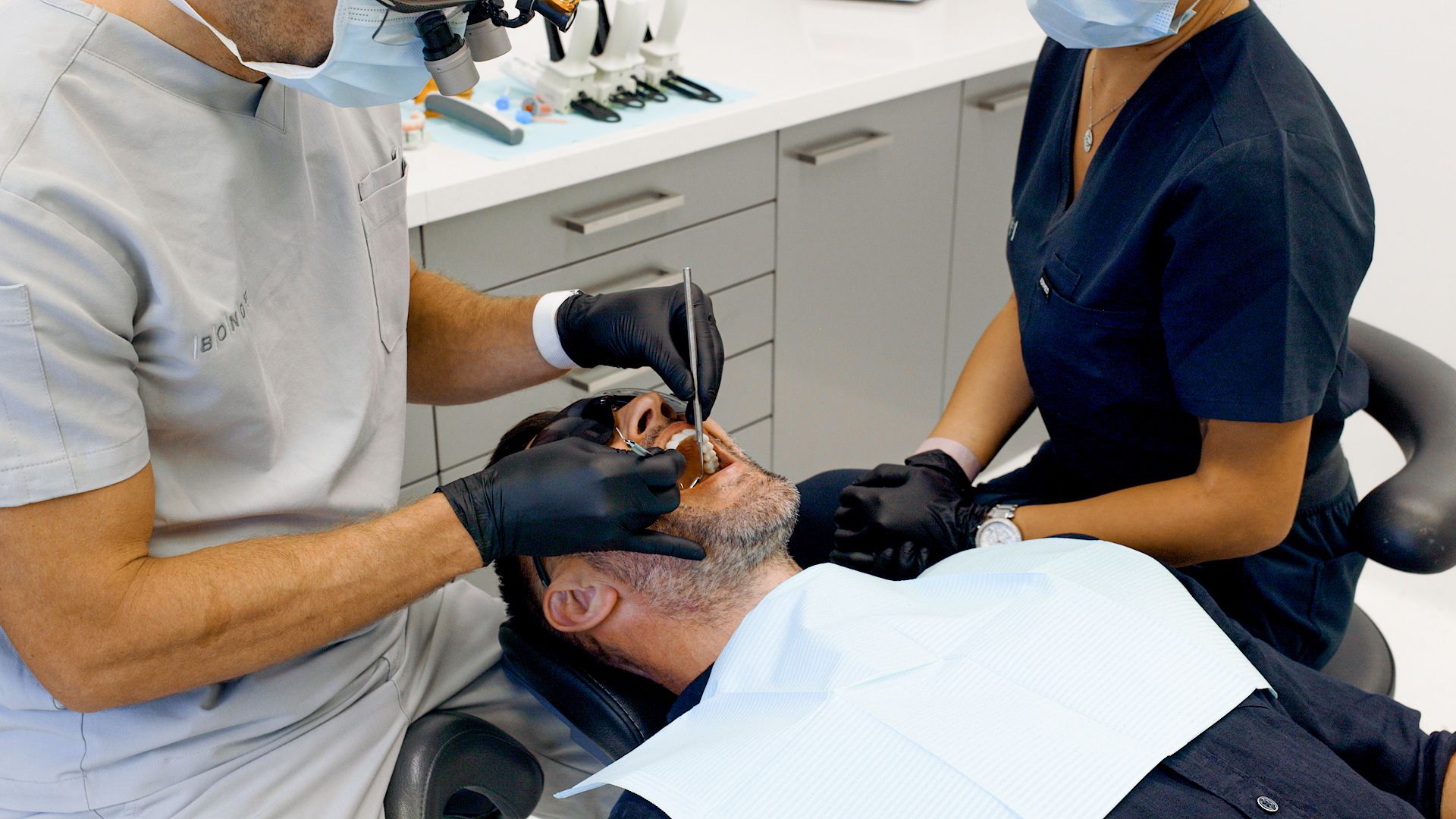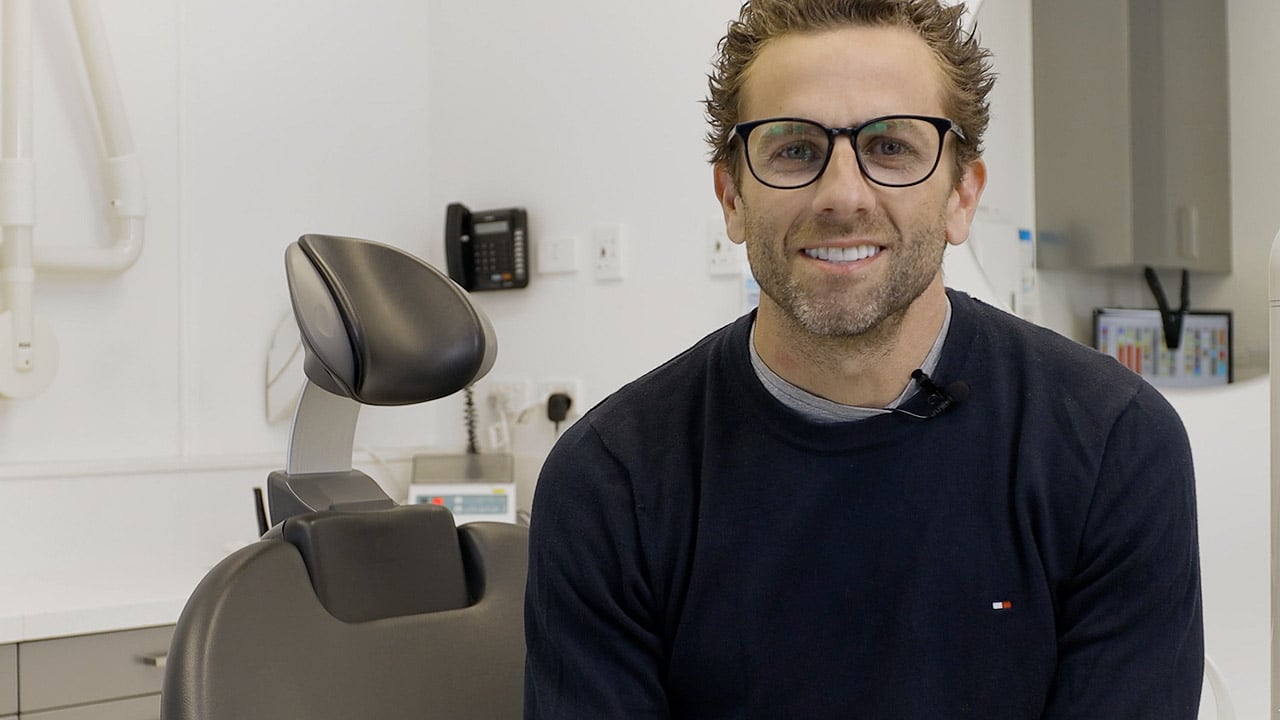 What is Cosmetic Dentistry?
Our aim is to enhance and revitalise the unique natural beauty in all our patients. That's why every cosmetic treatment at Bond St is individually tailored and meticulously finessed. Learn more about how we approach cosmetic dentistry.
Watch the video
Book your transformation consultation, today.
Quick Facts
Led by the renowned Dr Brent Dickman, our cosmetic dentists have enhanced some of Melbourne's most recognisable smiles.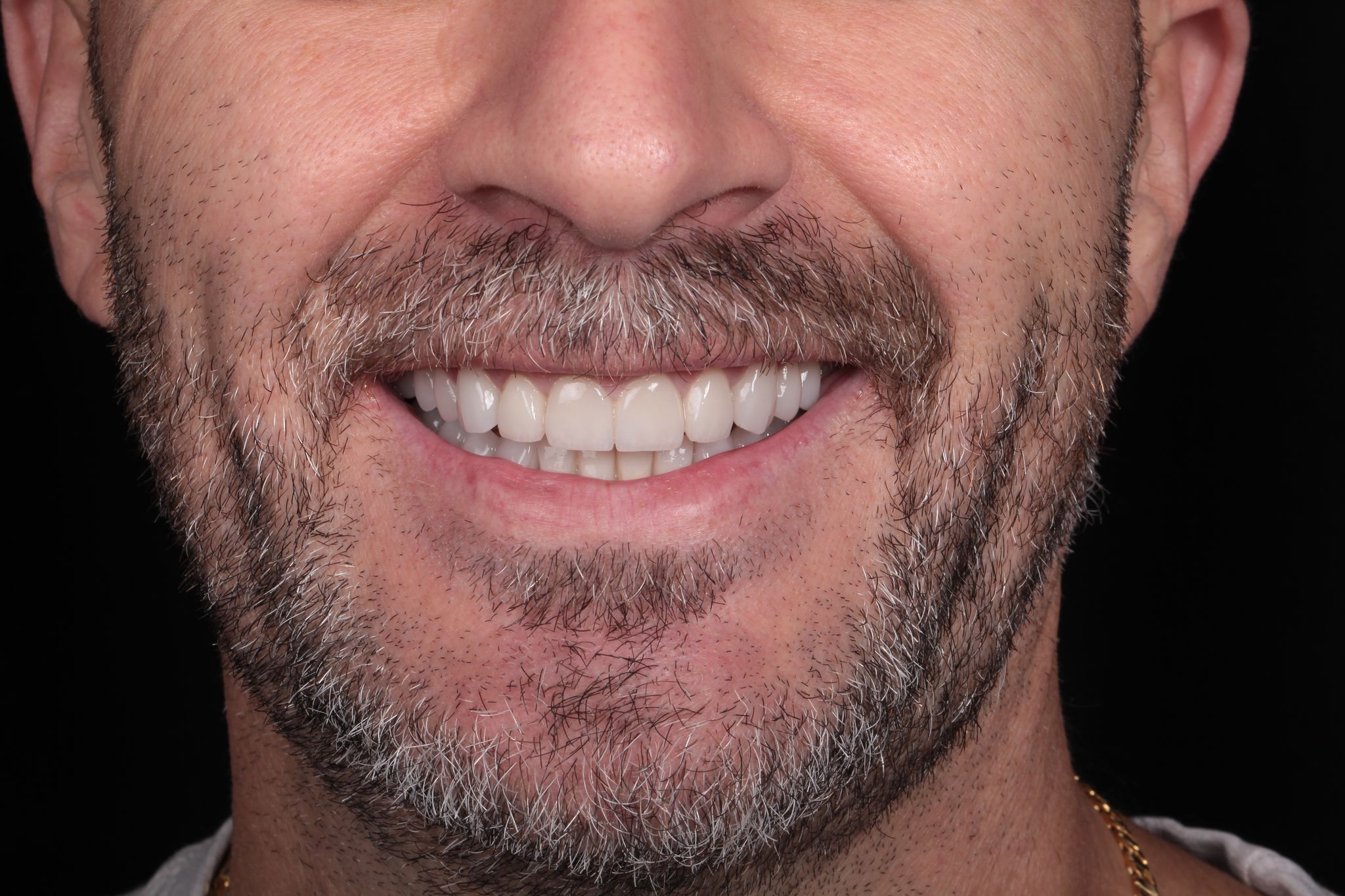 Before & After Gallery
Discover the many different patient transformations that take place at Bond St – and to help imagine what we could do for your teeth.
Discover more of our famous smiles