Meet our Digital Smile Design Team
15 Mar 2021
At Bond Street Dental, we have committed to invest in the Digital Smile Design (DSD) system to provide our patients with the absolute highest quality innovations in smile design. Our team members are trained in the DSD Concept, having completed intensive and comprehensive instruction, making our practice one of the few DSD clinics in Melbourne, and indeed, Australia.
 Why have we made this decision? Simply put, Digital Smile Design improves the quality of dentistry. It enables trained dental professionals to take a new approach to designing smiles using the latest technology. This holistic concept puts patients at the heart of the process. It gives us the tools to construct 3D picture of your teeth taking into account your mouth when it moves and also your jaw and bone health. Using intraoral scanners, photographs and video as well as a thorough dental assessment, the innovative DSD software lets us show you a preview of how your new smile would look after dental treatment – before any treatment has even begun!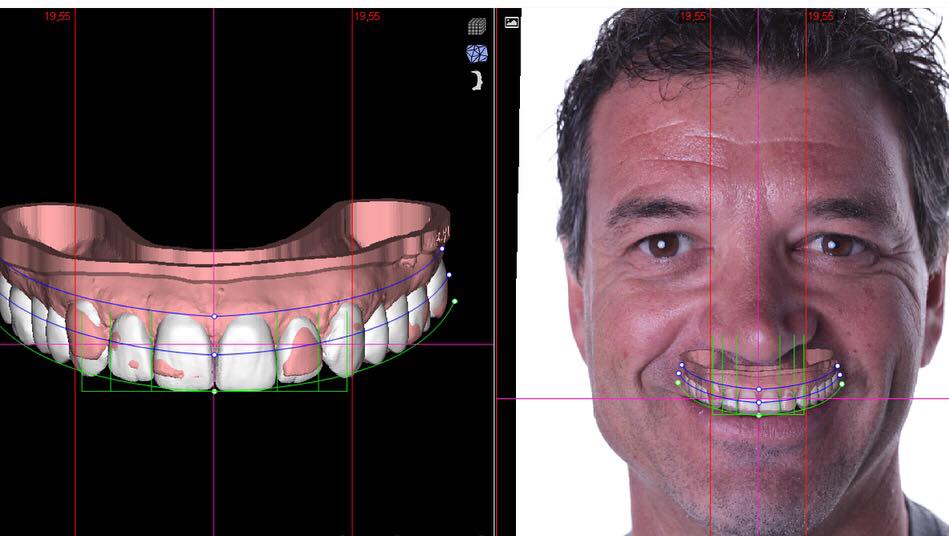 What can Bond Street Dental give to patients through the DSD method?
Digital Smile Design in Melbourne can be used to plan a wide range of smile makeovers. Whether you are looking to repair broken teeth, to replace missing teeth or to straighten a crooked smile, Digital Smile Design involves you in the conversation with your dentist during the smile design process.
Using DSD, your dentist can co-design your smile with you – showing you how the result will look. This is a truly unique process – for a truly unique smile. Rather than having to hope you will like how your smile looks at the end of treatment, you will be able to see for yourself – in a digital preview on your face. Your dentist will also use DSD to plan treatment, giving a greater accuracy and precision to treatment planning. For example, if dental implants are to be placed, your dentist will use DSD to choose the optimum placement for success. You will also get an accurate breakdown of costs and proposed treatments so you can plan accordingly.
What kind of training and certification does a practice undergo in order to be a DSD clinic?
To become a Digital Smile Design clinic in Melbourne, all of our staff have had to undergo a comprehensive and rigorous training programme to ensure we are fully compliant with global DSD protocols. There is a consistently high standard and quality of treatment at DSD clinics because of the strict requirement for ongoing training and practice. Every patient case in a DSD clinic is reviewed by a team of specialists from across the fields of dentistry in the global DSD Planning Center. This extra layer of review ensures clinical excellence in every DSD case.
As a practice, we have invested not only in the equipment to conduct a thorough DSD assessment but also the training needed to be called a DSD clinic.
Meet our DSD Dentists
Dr Nima Ferdowsi, BDSc (Adel) – DSD Dentist at Bond Street Clinic
Dr Nima Ferdowsi graduated from Adelaide University with top honours in clinical dentistry in 2000.
Dr Ferdowsi has dedicated his energy for excellence in the broad spectrum of dentistry; from cosmetics, implants, and also the treatment of sleep apnoea and snoring. Becoming one of the the first Digital Smile Design (D.S.D) Masters in Australia and setting up the first Digital Smile Design Clinics in Melbourne are a testament to his passion for achieving perfection in smile design. This has allowed him to learn from world leading Dr Christian Coachman and be at the cutting edge in the field of cosmetic dentistry.
Established since 2005 at Bond Street Clinic, Dr Ferdowsi has achieved considerable experience in the field of reconstructive and implant dentistry; and has completed a master clinician program in implant dentistry at the University of California Los Angeles (UCLA).
About Dr Brent Dickman, BHSci, BSciDent (Hons), BDS (Adel) -DSD Dentist at Bond Street Clinic
A fellow graduate of the University of Adelaide in Dental Science (2002), Dr Brent Dickman also has a Bachelor of Health Science with Honours. Dr Dickman is especially interested in reconstructive dentistry and as such has gained extensive experience and expertise in the fields of cosmetic and implant dentistry. Though his scope of practice covers all aspects of dentistry he is particularly passionate about the areas of digital smile design, crown and bridge and placement of porcelain veneers having trained extensively with industry pioneers in these fields.
Both Dr Dickman and Dr Ferdowsi have completely comprehensive and in depth training on the DSD concept to bring the highest standard of Digital Smile Design to our patients in Melbourne.
Ask us a question about Digital Smile Design in Melbourne
At Bond Street, we understand that deciding to get a smile makeover to repair your teeth is a big step. You will naturally have many questions. During your initial consultation there will be plenty of time to talk about your concerns and questions with our team. In the meantime, we also have a compiled answers to some of the most popular questions we get asked at our clinic. Perhaps you have been wondering:
What to expect from the DSD consultation

What, if anything, you should bring with you

What the process involves from start to finish

How DSD can help nervous patients
Is Digital Smile Design the right choice for you?
If you have more specific questions about whether DSD is right for your specific situation  or want to know more about the difference it could make to your dental concerns, you can visit us for a consultation.
When you come in for a DSD consultation, we can assess your suitability for treatment, talk through your dental concerns and begin the DSD process.
Dentist
Digital Smile Design
Back to Articles