Covid-19 Update
23 Mar 2021
In line with the recent announcement from the Victorian Government and the recommendation from the Australian Government, we are now only able to provide emergency dental care in very limited circumstances. 
COVID-19 Update – 15th February 
If you have a dental appointment scheduled for the current lock-down period, and it is not urgent/or considered emergency care. Please consider your appointment cancelled and we will be in touch to reschedule.
Note we are not onsite for the next few days (unless in case of emergency), please feel free to reach us via email or via social media where we will monitor all contacts.
In case of dental emergency (severe unrelenting pain, facial swelling or facial trauma) please call our After Hours Emergency Line 0498 480 823.
If you wish to arrange a virtual consultation with a dentist, we can arrange that as well please email enquiries@bondst.com.au 
For all other enquiries, please call us when we are open for business on Thursday 18th Feb contact us on 9826-4163 or email us on info@bondst.com.au
How you can help
Attend your appointment alone (or one parent/carer) to minimise the number of people in the clinic
Maintain physical distancing whilst in the reception/waiting area
Wear a mask whilst you wait
Sanitise your hands on arrival
However, as always we ask that you do not attend the clinic if you are feeling unwell or been in close contact with a known case. We remain vigilant with our health screening and taking temperatures of all visitors to the practice and cleaning/infection control measures.
Patients over the age of 70 or those with chronic disease, in particular cardiovascular or respiratory disease, thoese who are immunocompromised (such as those patients undergoing cancer treatment, or insulin dependent diabetics) should defer non-urgent dental treatments.
HOW WE ARE WORKING TO KEEPING YOU AND OUR TEAM SAFE
We want to assure you that our priority remains the safety and wellbeing of people – our patients, our people and the community.
In line with this commitment, we're continuing a number of safety measures to help minimise any risk of COVID-19 exposure within the practice.
These include:
Our team members staying away from the practice if they have been in contact with a confirmed or probable case of COVID-19, or are feeling unwell with flu-like symptoms;
Standard infection control procedures to reduce the spread of any infection;
The use of personal protective equipment (PPE) for all treatments such as standard level 2 surgical masks, protective eyewear, gowns and gloves;
Strengthened cleaning procedures, including actively promoting the regular use of antibacterial hand sanitiser and surface wipes;
Stringent personal hygiene measures for our people;
Requesting patients reschedule their appointment if they are or have recently been unwell, or are experiencing any flu-like symptoms; and
Touch free temperature checks for all patients and visitors
Health declaration for all patients and visitors to the practice
To speak with us about your dental care needs or to book an appointment, please call us on 9826 4163 or email info@bondst.com.au
If you are unable to attend the practice in person, we are available for virtual consultations via ZOOM or via telephone (No Charge for this service).
Click here to book a Virtual Consultation
COVID-19 Response Guidelines
To protect the health of our dentists, staff, patients and to reduce the potential spread of the Coronavirus, we have already implemented the following guidelines.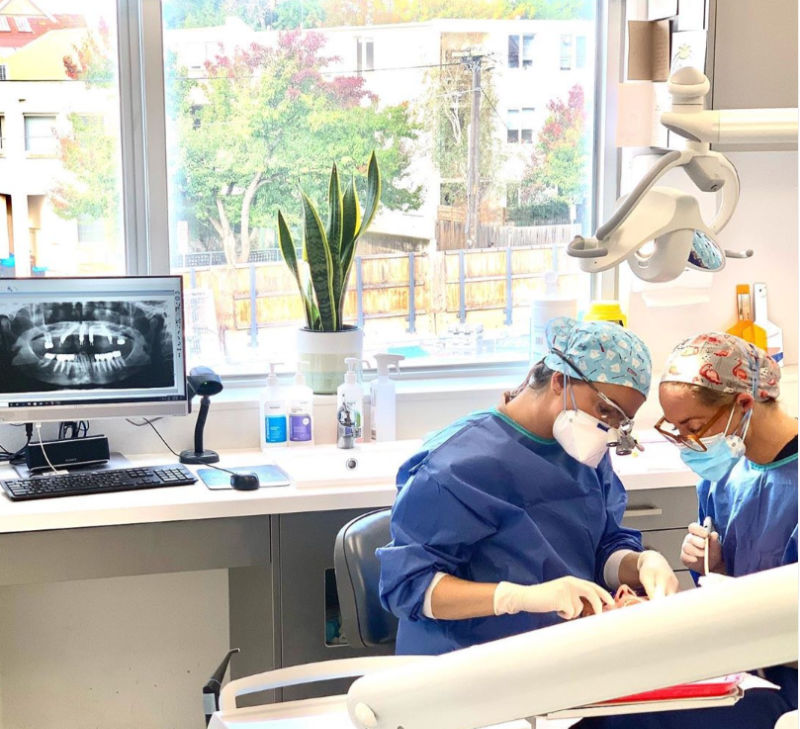 Virtual Dental Consultations
For some patients that are at high risk or have been exposed to COVID-19, or are unable to attend the clinic in person for a consultation – we are delighted to offer virtual consultations as a part of our standard care at Bond Street Dental.
In addition, we are offering this service free of charge to existing and new patients.
The current COVID-19 crisis we are facing is fast changing. We are keeping updated with all the recommendations from the relevant government and industry regulators are assure you that we are doing all we can to ensure the health and safety of our patients and staff.
We hope that you are all doing well, and we are here for you if you need us.
For any questions or queries, please feel free to email us info@bondst.com.au or call the practice directly. Our fabulous team of receptionists will gladly offer advise and assistance.
Dentist
Back to Articles